Spicy Tomato Tart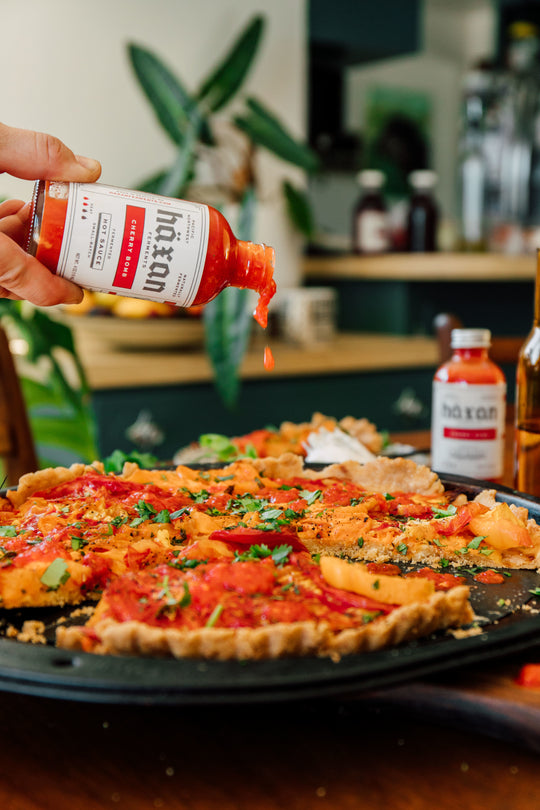 A spicy take on the classic tomato tart. Perfect for using up end-of-summer tomatoes, but will work beautifully even with out-of-season tomatoes. 
Ingredients
1 pie crust (storebought or homemade, use your fav!)
1 lb ripe heirloom tomatoes
2 tbsp Cherry Bomb hot sauce
2 tbsp mayo
salt and pepper
parsley 
Directions
Preheat oven to 375. Roll out crust to fit a 9" tart pan (one with removeable bottom will work best, but you can also use a normal pie pan). Trim excess dough and prick all over with a fork. Cover with parchment and weight crust down with pie weights or dried beans (full confession, I frequently skip the weights, but if you want a photo-perfect tart you should use them). Bake for 20 minutes, remove weights and parchment, and bake for an additional 5 minutes. Crust should be lightly golden. 
While crust cools, thinly slice tomatoes. Sprinkle with coarse salt and lay on a plate. Mix mayo and Cherry Bomb. When crust is cooled to room temp, brush with mayo mixture. Blot tomatoes with a paper towel to remove extra moisture and arrange in tart shell. The tomatoes will shrink down during baking, so make sure to fully fill gaps. Lightly brush tops with olive oil and sprinkle with black pepper. Bake for 1 hour, rotating at 30 minutes. Tomatoes will be deeply roasted and soft when done. Garnish with parsley.