Pumpkin Chili Chicken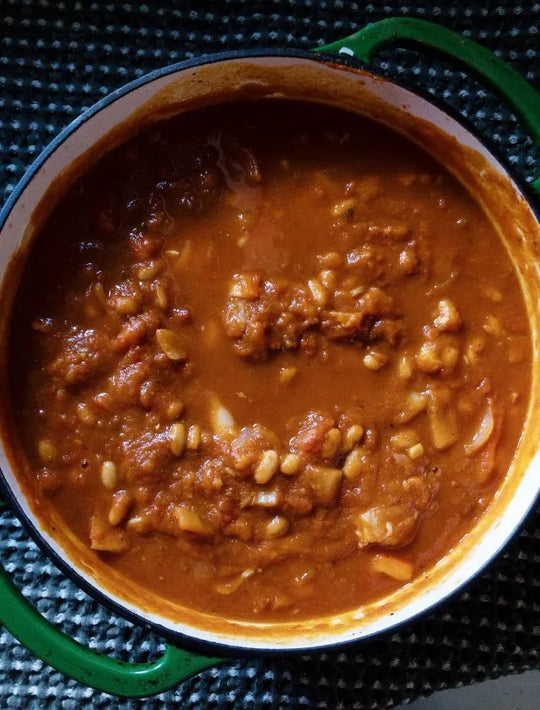 It's hard to get more fall-themed than this. Pumpkin, dark beer, white beans, all nestled in a cozy stew that will make your house smell amazing. You can leave the chicken out or throw an additional can of beans in to make this veg-friendly. 
Ingredients:
1 large onion, chopped
1 tbsp olive oil
4 cloves of garlic, minced
1 bell pepper, chopped
1 jalapeno, chopped
1 tbsp cumin
1 tbsp paprika
2 tsp salt
1 tsp coriander
1/4 tsp cinnamon
1 28-oz can crushed tomatoes
1 29-oz can pumpkin puree
2 cans white beans, drained and rinsed
12 oz dark beer
2 lbs chicken thighs, cut into 3-4 large pieces
1 cup water
2-3 tbsp Pumpkin Habanero hot sauce
Suggested toppings: avocado, sour cream, additional hot sauce, sliced scallions, chopped cilantro, oyster crackers
Directions: In a large pot, heat oil over medium. Add chopped onion and sauté until translucent and just starting to brown, about 5 minutes. Add garlic and chopped chile pepper and cook about 1 more minute. Add remaining ingredients and stir. Reduce heat to low and cook, uncovered, for 2-3 hours until thick. (Add additional water if it thickens too much). Shred the chicken thighs and serve.